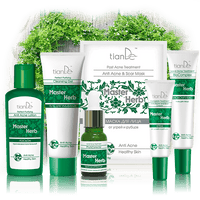 Anti Acne
How to get rid of acne scars?

Complex skincare program Master Herb designed with respect to special needs of blemished skin.
Active substances of the products address the direct cause of inflammatory processes – bacteria.
Apart from that, they treat the consequences by smoothing acne scars and renewing the skinl

Acne scar treatment.

Products of this line are designed for everyday care for problematic skin as well as a local application on inflamed spots that may appear on healthy skin. Active substances provide moisture, nourishment and strong anti-bacterial protection.

The complex program will Read more: overall care, prevention, and treatment of local imperfections.




https://tiandebeauty.info/collections/master-herb
Our store
WORKING HOURS:
Mon - Fri, 11am - 5pm
Saturday CLOSE
Sunday, CLOSE
EMAIL. tiandeproductseuropa@gmail.com
PHONE NO. 01375650888
Business with us - Become Consultant
What does the Distributor get from cooperating with TianDe?
Products at special prices.
Revenue from retail sales.
Bonus system:
- Bonus for Personal Volume
- Bonus for Structural Volume
- Bonus from 5 Director levels

 A single payment Star Marketing Prize!
Online Bonus Program (additional bonuses for working online):
Level Bonus – bonuses of Consultants of your online structure.
Participation in promotional and special programmes.
Training.
Modern business instruments for structural development.
Career growth.