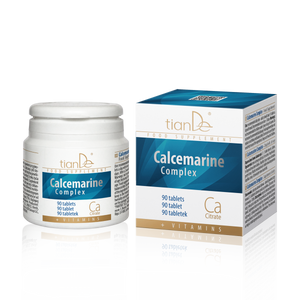 Tiande Calcemarine Complex 90 capsules
TianDebeauty
Regular price £31.00 Sale
A source of calcium, vitamin D and vitamin B6.
Calcium is needed for the maintenance of normal teeth. Calcium is needed for the maintenance of normal bones. Vitamin D contributes to normal absorption/utilisation of calcium and phosphorus. Vitamin B6 contributes to normal protein and glycogen metabolism.
Ingredients: calcium citrate (from oyster shells), premix [acidity regulator: potassium carbonate, vitamin C (L-ascorbic acid), calcium (calcium lactate), magnesium (magnesium lactate), zinc (zinc sulphate), vitamin B6 (pyridoxine hydrochloride), silicon (silica dioxide), manganese (manganese sulphate), boron (sodium borate), copper (copper sulphate), vitamin D3 (cholecalciferol)], stabiliser: calcium stearate, potato starch.
Content of biologically active substances:
5 tablets contain: Calcium, mg/ µg - 450 mg, % from NRV* - 56.25. Vitamin C, mg/ µg - 15 mg, % from NRV* - 18.75. Vitamin B6, mg/ µg - 0.5 mg, % from NRV* - 37.71. Vitamin D3, mg/ µg - 7.5 µg, % from NRV* - 150.
*NRV - Nutrient Reference Value
Warnings:
Not recommended for children.
Do not exceed recommended daily dosage.
Food supplement does not replace a nutritious and balanced diet.
Do not use in case of hypersensitivity to any of the ingredients.
Keep out of reach of children.


APPLICATION:
Recommended daily dose - adults should take 3-5 tablets a day with meals. Recommended course of use – 30 days. After a 2-week break, the course can be repeated.