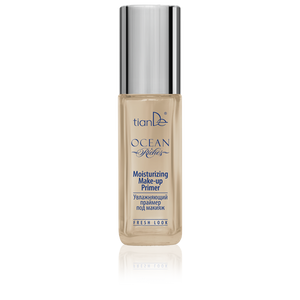 Tiande Hyaluronic Acid Moisturizing Make-up Primer
TianDebeauty
Regular price £19.80 £19.80 Sale
Do you think that only people in magazines have perfectly smooth and soft skin and that it is because of Photoshop? You are wrong! Anyone who knows the products of TianDe can now have a face like one on a fashion magazine cover.

The Ocean Riches moisturising base for use under make-up is the perfect foundation that will make the skin-tone product spread like a perfect veil and hide all flaws!

The foundation is light as a feather, and it helps to mask pores, fill in wrinkles and make the skin silky and perfectly smooth. You can now have skin like people on the covers of the best fashion magazines!

The Ocean Riches foundation effects not only on the outer beauty of the skin, it also provides the skin with deep nourishment and prevents the formation of wrinkles thanks to its active composition.
APPLICATION:
The product can be used both as a foundation under make-up and separately. When applying the product, avoid the areas around the eyes.