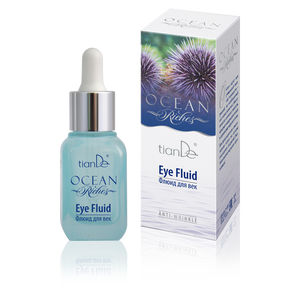 Tiande Hyaluronic Eye Fluid
TianDebeauty
Regular price £21.40 £21.40 Sale
A fresh look in no time
The skin around the eyes is the first area to reveal the real age of a woman. Why? It is approximately 6 times thinner than the skin on other parts of the face and therefore more susceptible to irritation and dehydration. The large concentration of mimic muscles in the area leads to the quick formation of wrinkles.

The Ocean Riches eyelid fluid solves the basic challenges faced by a high-quality product for the area around the eyes.

- Deep revitalization of the skin. This modern term literally means "a return to life". It's essential function is to provide hydration + rejuvenation.
- Lifting effect. Thanks to its active ingredients, the fluid tightens the skin, strengthens it and minimizes wrinkles.
- Smooths out wrinkles. The fluid contains a sea urchin extract that has a strong rejuvenating effect and effectively fights wrinkles.

The extract restores the tone and elasticity of the soft skin of the eyelids and eliminates age-related swelling and sagging.
APPLICATION:
Gently dab the product onto the skin around your eyes.