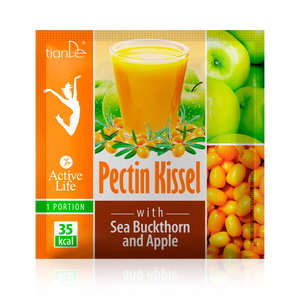 Tiande Pectin Kissel with Sea-Buckthorn and Apple
TianDebeauty
"Balance" pectin kissel with sea buckthorn and apple was developed to help your body run like clockwork. It contains ingredients that have the best effect on the function of the digestive system and allows you to feel great.

Without starch, flavor enhancers, preservatives, and colorants - it contains only natural ingredients and only 35 kilocalories per serving. TianDe acid contains the effective probiotics inulin and pectin as well as oat fiber, which cleanses the body.

- carrot and sea buckthorn juice boosts the immunity and charges you with energy
- apples and pumpkins help digestion
- pineapple juice helps get rid of excess substances

Drinking pectin kissel is a tasty way to support your digestive tract. You can forget about digestive problems. From now on, your body will work without interruption!

Pectin kissels from TianDe will serve as a great snack or supplement to your main food intake and will have a dignified place in your daily diet.

Ingredients: fructose, maltodextrin, oat fiber, thickening agent: pectin (12%), inulin, apple powder (8%), carrot juice powder, thickening agent: xanthan gum, pumpkin powder, sea buckthorn juice powder (2,5%), antioxidant: citric acid, pineapple juice powder, sweetener: steviol glycoside.
Store in a dry, cool place, at a temperature below 25°C, in the air humidity <75%. Use immediately after opening.


APPLICATION:
Add 180-200 ml of hot water, thoroughly mix, after 2-3 minutes product is ready for use.