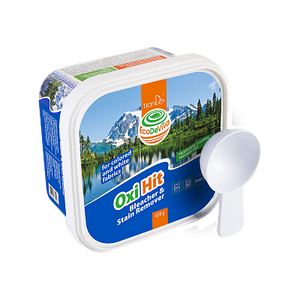 Tiande Oxi Hit Bleacher & Stain Remover 650g
TianDebeauty
Regular price £19.80 Sale
The composition contains active oxygen and bischofite salt - a natural mineral of the ancient seas, purity and freshness activator, allowing you to arrange a real "balneowashing".
It will rid your clothes of stubborn stains, city dust, and the smell of sweat clothes, making them soft and refreshing colors.
 Detergent booster - whitens white, eliminates grayness and yellowness, and keeps the brightness of colored laundry. Eliminates odors, including the stubborn smell of sweat on clothes. Works in the water of any hardness rinse out perfectly. Suitable for all types of fabric except wool and silk.
 Stain remover - quickly removes dirt from clothes, laundry, and furniture upholstery, including stains from grass, blood, brilliant green, wine, fruits, juices, coffee, sauces, fatty foods, oils, and resins.
Ingredients: >30 % Oxygen-based bleaching agents, < 5 % Anionic surfactants, < 5 % Enzymes (Subtilisin), < 5 % EDTA and salts thereof, < 5% Perfumes, < 5% Bischofite (Magnesium Chloride Hexahydrate), CI 74160.
Storage: store in a dry place at temperatures not exceeding 35 °C.


APPLICATION:
Before use, powder in the jar should be mixed. Do not use it together with products containing chlorine! Test detergent on a hidden place of fabric before use.
Washing method: Soak, Amount of water: 3 l, Medium soiling: 30 g, 1*, Heavy soiling 60 g, 2*, Use: Soak colored laundry for up to 1 hour
Washing method: Hand wash/Machine wash for 4-5 kg of laundry, Amount of water: 10 l/-, Medium soiling: 30 g, 1*, Heavy soiling 60 g, 2*, Use: Add to any detergent for washing
Washing method: Stubborn dirt and stains, Amount of water: 20–30 ml, Medium soiling: 15 g, 0.5*, Heavy soiling: 30 g, 1*, Use: Apply product to the stain for 15-30 minutes, then wash
* Dose: 1 scoop (25 ml) = 30 g