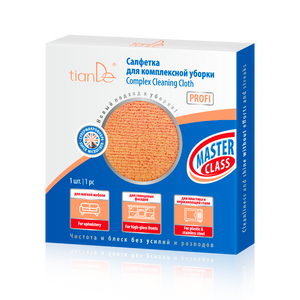 Tiande PROFI Complex Cleaning Cloth 1pc
TianDebeauty
Regular price £9.50 £7.13 Sale
Have you had enough of exhausting and tedious cleaning? We have a solution!

The scrubber wipe for comprehensive cleaning from the Master Class product line is a true professional that helps you clean even the most stubborn surfaces.
- glossy and plastic surfaces, glass, tiles, and laminate
- upholstered furniture, leather products, and suede and velour surfaces
- stainless-steel products (restores its original shine)

It protects your home from dirt, dust, stains, and moisture residues without damaging the surface. You can even use the scrubber wipe to clean your car.

The PRO scrubber wipe has special weaving. It is effective even without the use of special detergents and therefore saves not only these detergents, but also the family budget. Cleaning becomes more environmentally friendly.
APPLICATION:
It can be used both dry and wet. If necessary, use a detergent. Do not iron the product or dry it on a radiator.