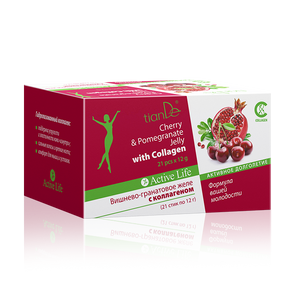 Tiande Cherry&Pomegranate Jelly with Collagen21pcs x 12g
TianDebeauty
Regular price £37.80 Sale
In the pursuit of youth, many people, especially women, are prepared to do almost anything - undergo expensive cosmetic procedures, go under the knife of a plastic surgeon ... But all of these methods focus only on eliminating the outward manifestation of the problem. The body remains the same on the inside. So is it possible to experience not only cosmetic rejuvenation, but also internal rejuvenation? Yes, if you regularly supply your body with collagen!

Collagen is a protein that forms the basis of the connective tissue of the whole body and its amount decreases irreversibly with age. It is necessary to supply the body with collagen from the outside. You can now easily and comfortably supplement your diet with collagen thanks to the sour cherry and pomegranate juice from TianDe. The product does not contain GMOs (genetically modified organisms), colourants or sugars. Thanks to its natural pomegranate and sour cherry juice, the collagen jelly has a pleasant fruity taste.

It contains natural hydrolysed collagen with a high absorption rate - more than 80 %. Collagen provides:
- mobility and flexibility - it supports the joints, ligaments and muscles
- beauty and youth - it nurtures the skin, hair and nails
- excellent health - it has a positive effect on the condition of the cardiovascular system

The natural vitamin C contained in the sour cherry and pomegranate juice helps to maximize collagen absorption.
APPLICATION:
1 bar (12 g) per day