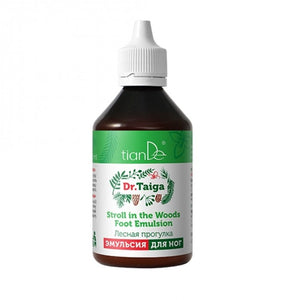 Tiande Stroll in the Woods Foot Emulsion
TianDebeauty
Regular price £12.30 £14.60 Sale
Enjoy your light step without 'lumps' and capillary network!
Are your feet 'in poor shape' after a long day? Do you feel your heavy feet with each step? Stroll in the Woods Foot Emulsion from the product line based on taiga plants and herbs will make your step light and help you manage with your foot fatigue. This is a 100% natural product, which consists exclusively of natural components. Preservative free.

We collected all the strongest natural vein-toning products and combined them in the Dr. Taiga Emulsion formula. The product's active formula:
- prevents swelling, relieves pain and the feeling of heavy feet;
- helps to reduce the capillary network and to prevent its appearance;
- gently cares for foot skin.

The components in the emulsion formula will help to 'stir up blood', thus improving blood supply to tissues. In order to prevent swelling and the feeling of heavy feet in the evening, apply the product to problematic areas in the morning. Thanks to cost-saving use, you'll need just a few drops.
APPLICATION:
Shake the bottle, apply a thin layer, gently rubbing in the product. Use 1-2 times a day.