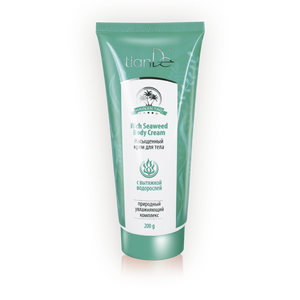 Tiande Rich Seaweed Body Cream
tiandebeauty
Regular price £17.00 £17.00 Sale
Imagine yourself at the beach... Your body is wrapped in ocean waves, seaweeds at the shore give you all their strength...

With the new cream from the Hainan Tao collection you will feel all the power and energy of the ocean right at home. The product is enriched with seaweeds that will give your skin everything they have in them. They will moisturize, restore and protect it. Rich oils and vitamins will fill your skin with nutrients.

You will feel amazing effect of this rich Hainan Tao Rich Seaweed Body Cream right from the first use. Your skin will be supple and soft, it will glow with beauty and freshness!
APPLICATION:
Apply the cream onto your skin in the morning or in the evening after the shower.