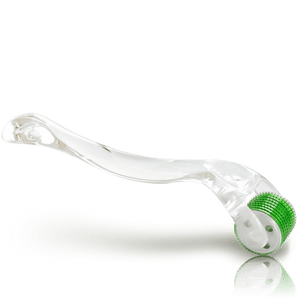 Tiande Mezzoroller massage roller
tiandebeauty
Regular price £45.90 £36.70 Sale
Use of the mezoroller improves penetration of the active ingredients of cosmetic products through the epidermal barrier, helps increase collagen synthesis through mechanical stimulation of the skin with micro punctures to a depth of 0.5 mm, helps restore the connective-tissue structure of the derma. The effect from use of the mezoroller is comparable with the results of salon treatments, and its use is atraumatic and affordable for a family budget.
APPLICATION:
The standard at-home treatment procedure may last from 5 to 10 minutes, depending on the size of the area you're treating. The procedure may be carried out 3-4 times a week.
Step 1. Skin cleansing.
Remove make-up and thoroughly wash your skin with a cleansing gel, rinse and blot with a tissue.
Step 2. Applying active ingredients.
Apply the active substance to the area being treated.
Step 3. Using the mezoroller.
Divide the area being treated into separate zones (e.g. forehead, nose, cheeks, mouth area, neck). Treat each zone with the mezoroller 10 times vertically, horizontally and then diagonally in both directions.
Step 4. Cleaning the mezoroller.
Before and after each procedure, immerse the mezoroller in a 75% alcohol solution for 5-10 seconds, then dry. After the procedure, it is recommended to keep the clean and dry mezoroller in a box out of the reach of children.