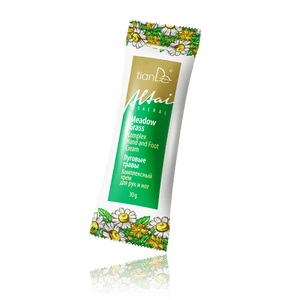 Tiande Meadow Grass Complex Hand and Foot Cream
tiandebeauty
Thanks to the formula rich in active ingredients, this Altai Sacral cream takes care of every aspect of your hands and feet: it nourishes, softens, improves the skin tone, helps to maintain young-looking, beautiful skin, and protects the skin against bacteria and negative environmental factors.
The cream formula contains natural oils and extracts from plants of the Altai – one of the cleanest destinations on the planet.
The cream does not contain parabens and artificial colours. At the same time, it creates a 'water cushion for added safety' on the skin surface.
The aroma of the cream will be a pleasant surprise as it will remind you of the sweet smell of Altai mountain meadow on a hot summer noon. The polyphonic chorus of various herbs, especially of the bitter sweetish scent of wormwood, will create an atmosphere of peace and harmony.
The economic packaging in small flat bags allows you to obtain a high quality product at an affordable price. If used daily, the cream will last for about a month.