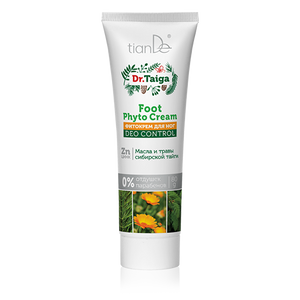 Tiande Dr.Taiga Foot Deo Control Phyto Cream
TianDebeauty
Regular price £5.50 £5.50 Sale
Foot care requires just as much responsibility as hand care. Our feet are under enormous pressure on a daily basis, resulting in fatigue and increased sweating. Instead of careful maintenance, people normally simply hide their feet in closed-toe shoe. What else should they do? Use a deodorant for the feet? It only covers up the smell for a certain time ...

There is a solution - "Deo Control" phyto-cream for the feet with natural substances that do not mask unpleasant odour, but fight against its causes. It is not perfumed and does not contain parabens.

Regeneration complex of extracts from taiga plants, natural oils and zinc oxide:
- prevents unpleasant odour and excessive sweating
- gives the skin freshness and reliable protection
- effectively softens, nourishes and hydrates the skin of the feet

During regular use, the elasticity of the skin is restored, small cracks heal, and dryness and peeling subside. Your feet will thus not only be under deo-control, but also under reliable protection.
APPLICATION:
Apply the cream to the clean and dry skin of the feet on a daily basis, and wear cotton socks overnight.