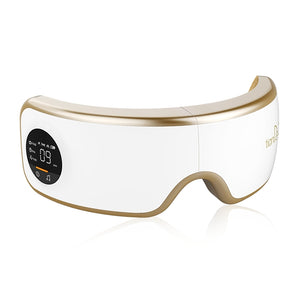 Tiande Eye Vibromassager
TianDebeauty
Regular price £244.60 £244.60 Sale
Excellent eyesight is the most precious nature's gift, which we unfortunately treat as given. There are too many factors in the contemporary world that may negatively affect the health of our eyes: TV-sets, computers, permanent workload, stressing pace of life, bad ecology… The result is tired and strained eyes, eyesight problems, early eyelid aging.

Eye Vibromassager by TianDe is a modern device that will help to look at the world in a new way! The basis of its operation is the Eastern acupressure health improving technique – massage by pressing certain bioactive points. This vibromassager provides three kinds of massage (pneumatic, vibration and infrared (heat) massage) and has the audiotherapeutic function.

This gadget takes care of your eye health:
- helps to relieve tiredness and strain;
- helps to maintain the eyesight;
- gives complete relaxation and sound sleep.

This vibromassager takes care of beauty and youthfulness by way of muscle relaxation:
- helps to prevent age-related skin changes round the eyes;
- improves the skin tone and elasticity, reduces baggy lower eyelids;
- helps to correct wrinkles.

Who needs this device? Those with prolonged visual workload, spending a lot of time at the computer, at the wheel, who work hard and have problems with falling asleep. Everyone! It's better to prevent problems than fight them later.

Give yourself some minutes of relaxation after a hard day, allow your eyes to rest completely!

Caution!
Children or people, whose physical or mental abilities prevent them from using the appliance safely, must be kept away it. It should not be used by people with sensitive skin, insensitive to heat, during pregnancy, people with cancer, heart diseases, pathological blood pressure changes, other acute diseases as well as those undergoing treatment.

If you have eye problems, the appliance may only be used under doctor's supervision. People who had any eye surgery, suffering from glaucoma, cataract, retinal detachment and other eye diseases are prohibited to use the appliance.

People wearing contact lenses may use the appliance only after they remove contacts.

Avoid using the appliance in high-temperature, inflammable or damp rooms, in places with electromagnetic radiation.

Do not take the appliance apart, keep it dry. Do not use it if a non-typical sound appears.

Stop using the appliance immediately if you feel discomfort or it feels painful to your skin when it is used. Consult your doctor.
APPLICATION:
Use the massager 1–2 times a day for 10–15 minutes.