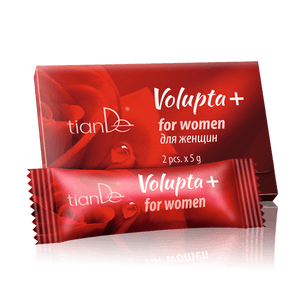 Tiande Volupta+ for Women
tiandebeauty
Regular price £10.60 £11.80 Sale
Volupta+ Intimate Gel will help women discover all of the realms of sexual pleasure and make every woman happy, providing satisfaction even to those who had previously thought it to be unachievable. The gel contains L- arginine – an amino acid. The TianDe product, Volupta+, contains the amino acid in a uniquely high concentration. L-arginine starts the process of producing nitrogen oxide (NO) in your body, which helps dilate your blood vessels, considerably increasing blood flow to your genitalia. The regular L-arginine action improves blood circulation in your pelvic organs, increases the tone of your genital muscles, and renders a generally positive effect on your body.
The menthol in the product helps increase the absorption of arginine, and stimulates nerve endings, increasing the secretion of natural lubricants.
The distinguishing characteristic of Volupta+ gel by TianDe is that it contains lactic acid and thus protects the microflora of intimate mucous membranes and retains normal pH levels. The formula also contains pantenol and allantoin, which moisturize and soften mucous membranes, preventing irritation.