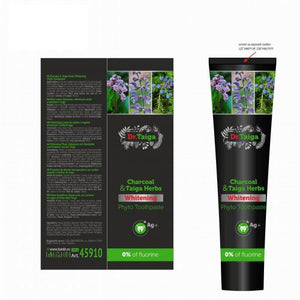 TianDe Whitening Charcoal Herbal Toothpaste
TianDebeauty
Regular price £11.80 Sale
Can your smile compete with the whiteness of the first snow?

We congratulate you, you're very lucky!
If not, change this with the help of the new toothpaste by TianDe!

The colour of Whitening Charcoal Phyto Toothpaste is rich black, but your teeth will become naturally white as a result of its regular use.

Thanks to charcoal and other components in the formula it:
delicately cleans teeth, making the enamel white again;
eliminates tobacco and coffee stain;
prevents cavities and dental calculi.

THE PRODUCT IS FLUORINE, PARABENS, SLS, FLAVOURING AGENTS AND SYNTHETIC DYES FREE.

There are natural SAA (surface active agents) in it affecting the enamel in the most gentle way. A nice natural aroma is provided by natural oils and extracts and not flavouring agents.

This toothpaste is from the Dr Taiga product line. One can find really unique plants and herbs in the taiga, with enormous healing power. We picked out the best of them and made the oral cavity series. These products will care for your snow-white smile and the health of your gums.
ACTIVE COMPONENTS
Charcoal Restores the natural whiteness of the teeth. Charcoal particles gently clean tooth enamel without damaging it. The plaque removed by abrasive friction is absorbed by cleansing charcoal particles.
Коллоидное серебро Коллоидное серебро Природный антибиотик, препятствующий размножению вирусов, бактерий и грибков, эффективный в отношении 650 вредоносных микроорганизмов.
Bergenia extract has long been used for its anti-inflammatory, healing and bactericidal effects.
Siberian fir extract has to disinfect and toning properties. It is used for excessive sweating of the feet, and it perfectly heals small cracks.
Siberian juniper extract is a natural 'sterilizer', it has strong antiseptic properties and gives a nice aroma to your breath.

APPLICATION:
Brush your teeth 2 times a day. Don't swallow.