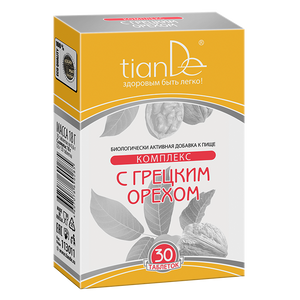 TianDe Walnut Complex Food Supplement
TianDebeauty
Regular price £22.50 £22.50 Sale
It is time to clean up your body! Remember the rule: a clean body is a healthy body!

The complex contains an extract of green leaves of walnut and shiitake, the legendary King of Mushrooms. Most tapeworms, simple viruses and other parasites are sensitive to these components.

In his treatises, Avicenna mentioned the walnut several times as a powerful antidote against various toxic substances; Asian healers considered it to be an indispensable medication against tapeworms.

The Food Supplement also contains the shiitake mushroom, the Eastern symbol of longevity. The Chinese have used shiitake fungus for medicinal purposes for more than 6000 years!

The components of the product help:
- lower the risk of parasitic infections;
- improve the immune system and the body's defenses.

Give yourself the gift of lightness and health!

BAA. Not a medicine.
APPLICATION:
Adults should take 1 pill 3 times daily with food for 1 month. Repeat if necessary within a year. Please consult your physician before taking any medication. Do not exceed the recommended daily dosage. Do not use the substance as a substitute for regular food.