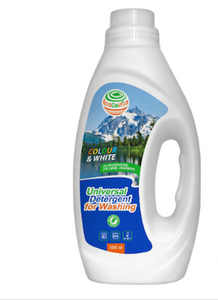 Tiande Universal Detergent for washing, 1L
TianDebeauty
Regular price £18.10 £14.50 Sale
This "3 in 1" product is meant for washing colored and white articles and does not require any rinser.
Based on "sugar" surface-active agents of natural origin. Parabens, phosphates and chlorine-free.

Safe for the human body and the environment, at the same time it manages with dirt well even in cool water (30 °C).
1 bottle is meant for 40 washings (200 kg of linen). Biodegradable does not pollute the environment.

AURA Fresh MAX:
actively removes dirt, eliminates odors, allowing fabrics to "breathe";
well rinsed off, which is important for hygienic underwear washing;
ideal for delicate washing of lace articles, silk, microfiber, wool, etc.;
suits any types of washing machines and hand wash.

APPLICATION:
Machine wash: 55 ml (1 bottle hood) of the product per 4–5 kg of very dirt linen. In case of hand wash and soaking 25–30 ml of the product per 3–5 l of water. To intensify the effect use together with Oxi Hit bleacher & stain remover – "balneowashing".
Can be used for handwashing and washing machines.
Eco De Viva product
------------------
Eco De Viva product label
Universal detergent for washing white and colored fabrics.

Contains plant-based surfactants. Biodegradable. Does not contain phosphates, chlorine, parabens. Actively removes dirt, removes unpleasant odor, and allows the fabric to "breathe". Rinses well, which is important for hygienic washing of underwear. Suitable for lace, silk, microfiber, wool, etc. washing. Intended for 18 washes. Dosage for washing machine (soft and medium-hard water): 55ml (1 cap) of detergent for 4-5 kg of heavily dirty laundry. Hand washing and soaking: 30ml for 5L (25ml for 3L) of water. To increase the effect, we recommend using a stain remover or bleach.
Ingredients: 5-15% anionic surfactant, <5% amphoteric surfactants, nonionic surfactants; EDTA and its salts.
Contains aromatic composition (benzyl salicylate), preservatives (sodium benzoate; benzylhemoformal; formaldehyde). 
Storage: do not store together with food products.
Store at a temperature from +3 till + 40°C, out of reach of children.

Batch number: see package.
Shelf life: 18 months from the date of production indicated on the package. Made in Russia.
Producer: IVITEK Ltd., Nesterova str. 9, 603005, Nizhny Novgorod, Russia.
Importer: ASTI Group Ltd, 5 Zardu Street, Riga, LV-1083, Latvia, +37127030599, www.ecodeviva.com
UFI: H6PV-WDU1-C00P-0TYY