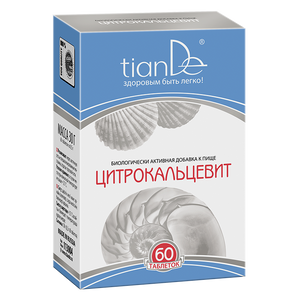 TianDe Tsitrokalcevit Food Supplement
TianDebeauty
Regular price £22.50 £22.50 Sale
A beautiful smile, shiny hair, well-nourished skin and nails, and lightness of pace – this is what makes us attractive and lays the foundation for our personal and professional success! This is why vitamins and the king of all minerals, calcium, should take a leading place in the fight for human health in present-day conditions. A deficit of this irreplaceable substance affects not only your appearance but your physical and psychological state as well.

Tsitrokalcevit is a source of biologically accessible calcium, which is ideal for the body and has a positive effect on the working of all the vitally important systems of the body.

What is biologically accessible calcium? This is the form of the mineral that is most readily processed by our bodies, which means that it renders the best possible effect on the body. Tsitrokalcevit is a cutting-edge combination of vitamins and minerals, which includes calcium citrate, which can be processed quickly by the body regardless of the person's age or the level of acidity in their stomach.

BAA. Not a medicine.
APPLICATION:
Children aged 7-10 should take two pills a day, and children and adults over 10 – four pills, with food. Please consult your physician before taking any medication. Not a medicine. Do not exceed the recommended daily dosage. Do not use the substance as a substitute for regular food.