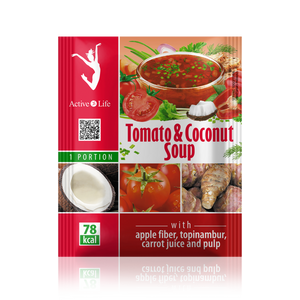 Tiande Tomato and Coconut Soup 28g
TianDebeauty
Regular price £3.00 £3.00 Sale
Tomato soup with coconut contains only 78 calories, is 100% natural and healthy.

The soup contains natural prebiotics and fibre, which has a beneficial effect on the intestinal microflora, keeps the body slim and the skin fresh. The product does not contain trans fatty acids, preservatives, colourants and gluten.

The soup is ideal for lunch or dinner, but also as a snack. You can easily take the light bags on a trip, business trip or other journeys. It is not necessary to cook: just pour water over the soup and it is ready.
Ingredients: tomato powder - 23%, coconut flour - 15%, apple fiber - 10%, emulsifier: sunflower lecithin, tomato pieces – 7,3%, potato flakes, topinambur powder – 6,5%, maltodextrin, fructose, vegetable mixture (paprika, onions, carrots, tomatoes, dill, garlic), carrot juice – 2,9%, salt, carrot pieces – 2,5%, thickener: pectin, garlic, psyllium seed husk powder, yeast extract.
Nutrition (1 portion (28 g)): Energy value kJ/ kcal - 330 kJ / 78 kcal, Fat - 2 g, including saturated fat 0 g, Carbohydrates - 10,5 g, including sugar 1 g, Protein - 2,5 g, Fiber - 4 g, Salt - 0,76 g
Nutrition (100 g): Energy value kJ/ kcal - 1180 kJ/280 kcal, Fat - 7 g, including saturated fat 0 g, Carbohydrates - 38 g, including sugar 3,5 g, Protein - 8 g, Fiber - 14 g, Salt - 2,714 g.
Store: in a dry and cool place, at a temperature not exceeding +25°C, relative humidity <75%.


APPLICATION:
Mix the contents of one sachet with 150 ml of boiling water, mix thoroughly. After 2-3 minutes the product is ready for use. Once opened use immediately.