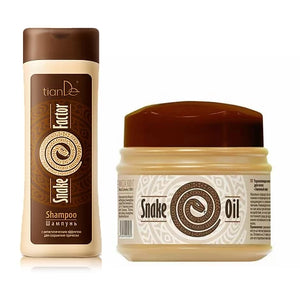 Tiande "Snake Factor" Shampoo & Snake Oil Strengthening Hair Mask
TianDebeauty
Regular price £25.40 Sale
This shampoo contains snake lipids which are the source of alpha-linolenic acid. Alpha-linolenic acid forms a natural part of hair. The lipids are the key element in healthy looking hair. The lipid layer weakens as the hair grows. In the areas where this lipid layer is damaged, evaporation of water occurs leading to dehydration of hair roots. These become brittle and acummulate electric charge. The hair becomes weaker, prone to tangeling and difficult to manage. The snake lipids in this shampoo contribute to the renewal of this natural protective layer. With every single use you will see you hair becoming stronger, shinier and well nourished without the need for hair masks and conditioners. It is an ideal shampoo for damaged, brittle hair with splitting ends. It is suitable for every day use. Parabens free. 200ml
APPLICATION:
Apply on a damp hair, massage and rinse thoroughly.
Perfect for dry, brittle and damaged hair that needs hydration and nourishment. Recommended both as an intense mask and as a regular care product for keeping hair in optimum condition. 500g
APPLICATION:
Evenly apply it to cleansed damp hair. After 2-3 minutes, thoroughly rinse out with water.