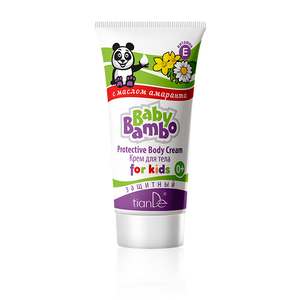 Tiande Protective Body Cream for Kids Baby Bambo
TianDebeauty
Children's skin is not the same as adult skin. Firstly, it is twice as thin and it quickly loses its moisture when bathing. Secondly, children's skin is very vulnerable and less protected from infections. Thirdly, it is more susceptible to the effects of the sun, wind, cold temperatures, water… Therefore, it is important to take care of a child's skin from the moment of birth.

The protective body cream Baby Bambo takes care of a baby's skin from the first days. Thanks to its natural composition, it is perfectly suited for taking care of the delicate and sensitive skin of children.

Cream for kids:
- nourishes and hydrates delicate skin
- reliably protects against wind, cold temperatures, and heat
- eliminates dryness, peeling and irritation
- help eliminate rashes

The Baby Bambo cream can be used under the diaper - it creates a waterproof layer that forms a lipid film to protect the skin against irritation. Thanks to this protective layer, the diaper will not rub and the baby will not be bothered by anything. The cream soothes skin that is irritated.

The Baby Bambo children's cream is suitable not only for children. The oil, vitamins, and extracts it contains will also be appreciated by adults.
APPLICATION:
Apply to the clean skin of the child and massage.