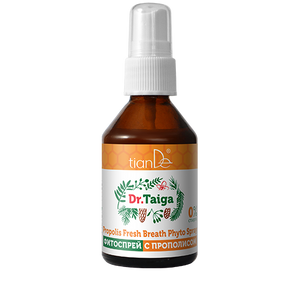 Tiande Propolis Fresh Breath Phyto Spray
TianDebeauty
Regular price £14.60 £11.00 Sale
Propolis Phyto Spray fights against the cause of the unpleasant smell and oral cavity problems - bacteria. It does not camouflage the problem but improves the condition of the gums and oral mucous membrane every day.

This product is effective because it contains 100% natural propolis. Propolis is known for its antibacterial and regenerating properties. The spray contains Leuzea (Maral root) and bergenia for a stronger effect.

Phyto spray may be used not only for freshness of breath but also to eliminate the cause of the unpleasant smell. It CONTAINS NO alcohol, as it is made on the basis of water! Thanks to the convenient sprayer, the product will last for a long time. It will last for about 250 sprayings.
APPLICATION:
Shake the bottle and spray in your mouth (spray 1-2 times), after that do not drink or eat for 30 minutes. The recommended frequency of use is 4-6 times per day.