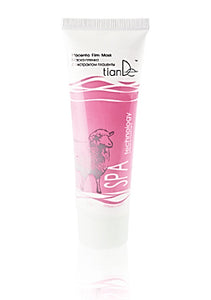 Tiande Placenta Film Mask
TianDebeauty
Regular price £8.40 £6.70 Sale
The film mask has a comprehensive influence on your facial skin and replaces mechanical cleansing.
The mask deeply cleanses the skin and removes dead keratinized skin scales. Its active components nourish and hydrate while boosting cell renewal mechanisms.
Evens out your complexion and the texture of your facial skin.
The mask prevents the appearance of wrinkles, has a rejuvenating and lifting action.
APPLICATION:
Apply a thick layer of the mask to your cleansed dry face, avoiding the lips, eyebrows and eye area. Leave it on for 18-20 minutes. Remove the mask from the bottom upwards, gently separating its edges from your skin. In case of remaining film fragments, wipe your face with a damp cotton pad.