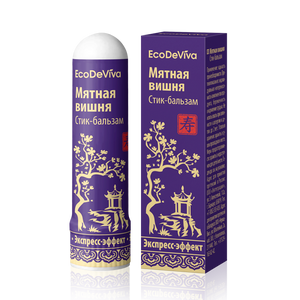 Tiande Mint Cherry Stick-Balm
TianDebeauty
Do you have a stuffy nose and are you having trouble breathing? Try aromatherapy with a mint cherry aroma stick and enjoy every breath.

This blend of natural aromatic oils created according to Eastern recipes:
- helps normalize nasal breathing
- offers appropriate support during viral infections and for their prevention
- improves overall mood
- has antiseptic effects
- hydrates the mucous membranes and prevents the growth of bacteria

This refreshing energetic aroma:
- helps restore your ability to concentrate
- has relaxing effects (for example in motion sickness)
- "puts everything right" during excessive physical and mental fatigue

The aroma stick with the scent of cherries and mint is an easy, compact and, most importantly, effective helper created according to Eastern recipes.
APPLICATION:
Remove the cap, place the aroma stick under your nose and take 2-3 deep breaths. Use when necessary.