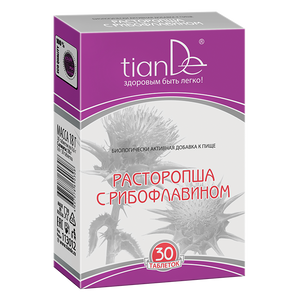 TianDe Milk thistle with Riboflavin Food Supplement
TianDebeauty
Regular price £19.20 £19.20 Sale
People believe that if you do not have any harmful habits then you need not worry about your liver. In reality, though, the liver of any human being these days is overloaded and stressed. The liver is rightfully known as the second immune system, which is called upon to neutralize harmful substances from the air, food or medicines taken by human beings, or harmful substances produced by the body itself.

Milk thistle is rightfully considered the best protector and healer of the liver; this substance has been used in folk medicine for more than two millennia. Milk thistle contains substances that protect and reinforce liver cells, including natural substances, flavonolignans. Flavonolignans help liver cells release accumulated harmful substances, and their excellent anti-oxidant properties help protect other organs and systems of the body.

Milk thistle with Riboflavin Food Supplement serves as an additional source of flavonoids and vitamin B2, which help normalize the function of the liver.

The main components in the substance help clean, protect and restore damaged liver cells.

This product helps normalize the function of the gastrointestinal tract, supports the function of the gall bladder, stimulates the work of the body's own antioxidant systems.

BAA. Not a medicine.
APPLICATION:
Adults should take 1 pill daily with food. Please consult your physician before taking any medication. Take the pills for 1 month. Repeat the course of treatment if necessary Do not exceed the recommended daily dosage. Do not use the substance as a substitute for regular food.