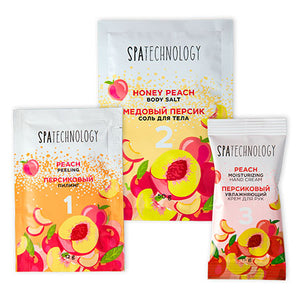 Tiande Hand Spa Care Kit
TianDebeauty
Peach Peeling
Remove dead skin cells using peeling. Thoroughly cleans and prepares the skin of the hands for further procedures.

The active ingredients of the peeling act on dead cells and easily remove them, leaving the skin velvety smooth and ready to absorb all the nutrients in the next stages of the procedure.

The basis of the peeling is malic AHA acid, which activates the formation of new cells, triggers an intensive process of cleaning and regeneration of the skin, and also improves the penetration of other active substances. Peach leaf extract hydrates, tones and softens the skin, unifies the colour, nourishes, prevents peeling of the skin, increases its elasticity and firmness.

Thanks to the mini packaging, it is ideal for travelling and you can use it to the last drop.
APPLICATION:
Apply the peeling on dry and clean skin of the hands. Then massage your hands in circular motions. Rinse thoroughly.
Honey Peach Body Salt
Peach extract enhances metabolic processes, restores, smoothes and nourishes your skin. Minute crystals of salt gently remove dead cells and boost regeneration processes. Due to its light peeling effect, salt enhances blood circulation, excretes toxins, tonifies, improves skin's elasticity and helps get rid of cellulite.
APPLICATION:
Apply it to your damp body with massaging movements. Rinse off thoroughly with water.
Peach Moisturizing Hand Cream
Peach moisturising cream from the Spatechnology collection restores softness and elasticity to hands with a delicate peach scent.

The hand cream intensively hydrates, softens and rejuvenates the skin. Thanks to its rich composition, it restores the epidermis, removes scales, accelerates skin regeneration and stimulates the synthesis of collagen fibres.

Spatechnology moisturising hand cream contains valuable and effective ingredients.

Peach oil soothes irritated skin, effectively nourishes it, counteracts age-related changes and loss of firmness.
Soybean oil improves the protective function of the skin, softens cracked and rough skin.
Vitamin E has antioxidant properties, participates in the formation of collagen fibres and elastin.
Panthenol and urea support rapid skin regeneration and intensively hydrate it.

Thanks to the practical packaging, you will use the hand cream to the last drop, making it an ideal travel companion.
APPLICATION:
Apply the cream to the clean skin of the hands.