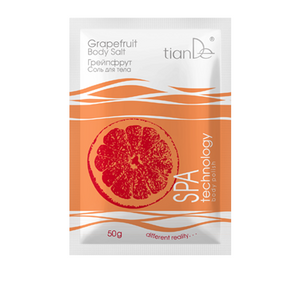 TianDe Grapefruit Body Salt
TianDebeauty
Bring sea spa resort into your bathroom; immerse yourself in pleasure head to toe! Refreshing aroma of ripe grapefruit will carry you away to the sunny azure beach, where you can relax and enjoy luxurious care… Forget about everything – it's time to look after yourself!

Grapefruit Body Salt makes your skin velvety soft, enticing to touch time and again.

Thick and saturated creamy texture of the product lightly spreads on the body, leaving a sensation of maximum moisturizing and softness. Grapefruit Body Salt is 70% sea salt. Its tiny crystals gently remove dead cells and stimulate regeneration process.

The salt functions as a mild scrub: it intensifies blood circulation, resulting in more toned and elastic skin, and helping against cellulitis. Grapefruit extract ingredient improves skin tightness, makes it softer and smoother. Invigorating, poignant aroma of juicy grapefruit will charge you with vitality and boost your energy!

Enjoy smooth skin wherever you are – put the compact Salt package in your bag, take it to a trip. No reason to delay the fragrant spa pleasure!

APPLICATION:
Evenly spread on wet body skin. Rinse well with water.