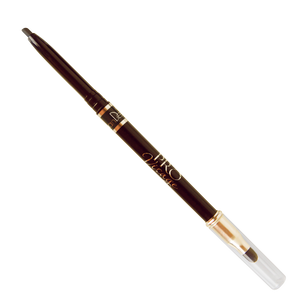 Tiande Eye & Brow Liner, 1 pc., tone 2, brown
TianDebeauty
Regular price £8.00 £8.00 Sale
Graphic lines, smoky make-up, eyebrow shaping and the ideal shade? The automatic eye and eyebrow pencil from the Pro Visage line will help you create make-up using the most popular techniques.

Soft filling, ideal texture and candelilla wax fix make-up, and vitamin E gently cares for your skin.

- The strong pigment provides excellent coverage and allows you to draw precise lines.
- The soft texture is easily smudged with the applicator to create a smoky look.
- Suitable for applying to the contour between the eyelashes and for optically highlighting the look.
- Helps to adjust the shape of the eyebrows and create a fashionable make-up.
- The optimal thickness of the filling allows you to draw hairs of the correct width.
- Contains natural antioxidants (vitamin E) and is gentle on the skin.
- Contains natural wax, which makes it easy to apply and helps to structure and fix the hair.
- It's easy to use and lasts all day.
APPLICATION:
Color your brows with the pencil, shading the skin between the hairs as you go. Regulate color intensity by pressing on the lead to make it stronger or weaker.