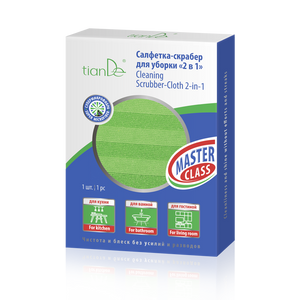 Tiande Cleaning Scrubber-Cloth "2 in 1"
TianDebeauty
Regular price £11.00 £11.00 Sale
Do you want your home to be clean while minimizing the time and energy spent?

The universal double-sided (2-in-1) scrubber wipe will help you deal with housework quickly and efficiently:
- the fine side made of microfibre removes dirt, dust and grease from any surface
- the scrubber with a firm but flexible surface removes even the toughest dirt

The scrubber wipe will be your helper when cleaning the kitchen, living room and bathroom. The specific fabric of the scrubber wipe:
- collects dirt and absorbs moisture
- does not leave stains
- ensures a long service life

The scrubber wipe is effective even without the use of special cleaning products, but it can be used with detergents if necessary.
APPLICATION:
Use the fine side of the wipe to remove dust, grease or other dirt from any surface. Remove particularly stubborn dirt with the rough side (scrubber) of the wipe. If necessary, use a detergent. Wash separately without other fabrics. Do not iron the product or dry it on a radiator.