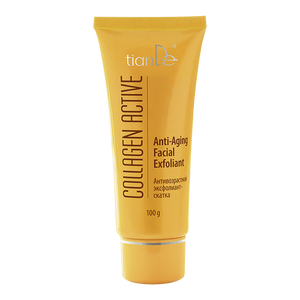 Tiande Anti-Aging Facial Exfoliant
TianDebeauty
Regular price £19.80 £19.80 Sale
The skin needs to breathe. However, dead cells, which form an invisible layer and dry the skin out, can prevent it, causing dull discoloration and fine wrinkles.
The anti-aging facial exfoliant from the popular Collagen Active line gently cleanses the skin deeply and removes unnecessary cells from the skin surface.
Exfoliating gel:
– activates regeneration and exfoliation of the epidermis
– purifies pores, improving oxygen access to cells
– lightens superficial pigmentation
– refreshes face tone, maintains skin elasticity
– has a rejuvenating effect in case of visible age-related changes
The product contains hydrolyzed collagen, which keeps the skin supple. The special acid-free composition is ideal for subsequent anti-aging care.
APPLICATION:
Apply a small amount to the skin using circular movements for 1 minute, then rinse with water.