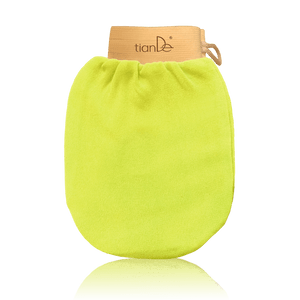 Tiande SPA - glove
tiandebeauty
The special 'grainy' texture makes this glove a truly multifunctional tool that carefully removes all layers of cornified skin cells, has massage effects, eliminates 'orange peel', and prepares the skin for sunbathing.
Peeling treatment makes the skin perfectly smooth, elastic, silky and easily breathing, and any subsequent cosmetic treatment is twice as effective. The spa glove activates the natural moisturizing processes.
Peeling accelerates the recovery of keratinocytes that are covered with a complex of natural moisturizing factor (NMF) molecules. These molecules attract and retain moisture, water creates a 'cushion' from which our skin can 'drink' if necessary.
The spa glove is made from cellulose. The flexible band allows to fasten the glove to the wrist and perform the exfoliating treatment with a maximum comfort.