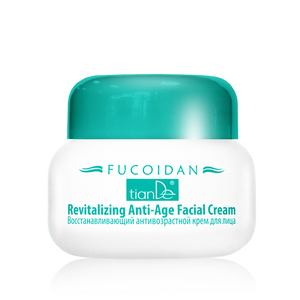 Tiande Fukoidan Revitalizing Anti-Age Facial Cream
tiandebeauty
Regular price £19.40 £19.40 Sale
Day and night cream in one bottle is a dream of every woman! TianDe makes this dream come true. Now your dressing table will be occupied by our new Fucoidan cream.
Light, easily absorbing Fucoidan Revitalizing Anti-Age Facial Cream works in several directions. It is a truly multi-functional product!
Intense nourishing and deep hydration is combined with rejuvenating and regenerating effect.
Include this Revitalizing Cream in your Fucoidan skin care regimen and see amazing results!
Your skin will glow with beauty and youth, wrinkles and fine lines will become less visible, and new ones won't appear.
If you have sensitive or stressed skin – Fucoidan Revitalizing Anti-Age Facial Cream is your choice. It is suitable for all skin types, makes it incredibly elastic and beautiful.