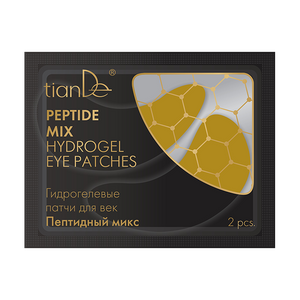 Tiande Peptide Mix Hydrogel Eye Patches
TianDebeauty
Regular price £4.50 £4.50 Sale
Do you follow fashion trends in the beauty industry? Peptide Mix Hydrogel Eye Patches are exactly the things you need! They contain the latest generation components – peptides that work not only with the consequences of the problem (i.e. lines and wrinkles) but with the causes of its origination.

Peptides are "information carriers" in the body – they transport biological information from one cell to another in order for everything in the body to function properly. In short, peptides make skin cells perform their functions 100% as in the time of youth. As a result, wrinkles smooth out, and you see the radiant skin.

Peptide Mix Hydrogel Eye Patches:
- soothe, delicately correct expression lines;
- strengthen the skin texture, boost its elasticity and firmness;
- are ideal for skin care in case of age-related decrease of firmness or sun-damaged skin.

Enjoy firm and elastic skin without visible age-related changes!
APPLICATION:
Apply patches to the cleaned skin under the eyes. Remove after 15-20 minutes. They should be used immediately after you open the package.