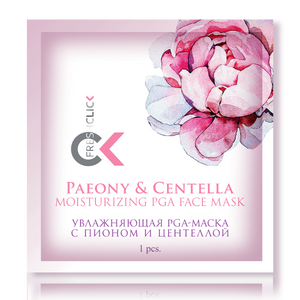 Paeony & Centella Moisturizing PGA Face Mask, 1 pc.
TianDebeauty
Refreshing and extra hydration of the skin
Youth is a time of exploring, meeting friends, and taking great selfies. Do you long for ideal skin without Photoshop and filters? Reach for a new generation of gentle exfoliating acids (PGA) in combination with active skin hydration.

It is this modern ingredient, polyglutamic acid, that forms the basis of the PGA mask from the FreshClick series for young skin.

Moisturizing facial PGA mask:
- supports the natural exfoliation of the skin
- strengthens the lipid epidermal barrier
- reduces the likelihood of irritation, dryness, and excessive production of sebum
- restores the skin, giving it a youthful, fresh, and well-maintained appearance

In addition to PGA, the mask contains active regenerative ingredients: panthenol, sodium hyaluronate, peony root extract, Centella leaf extract an
d beta-glucan.
APPLICATION:
Apply the mask to your cleansed face for 15-20 minutes, then remove it and rinse your face with water.
ACTIVE COMPONENTS
PGA
Polyglutamic acid (PGA) is a modern ingredient that works in two ways: it deeply hydrates the skin and creates a film on its surface that prevents dehydration. PGA can penetrate deeper layers of the skin, accelerate its regeneration and improve elasticity.
Panthenol
Panthenol helps to heal micro-fissures on the skin surface, has excellent regenerating and moisturizing properties.
Sodium hyaluronate
Intensively moisturizes the skin, improves skin elasticity, makes the skin smoother. Smoothes out fine lines, improves the softness and suppleness of the skin.
Chinese peony
Peony root extract is a great antioxidant that moisturises and tones the skin and helps regenerate and rejuvenate the skin.
Gotu kola
Centella asiatica leaf extract slows down aging processes, increases the elasticity of the skin and smoothes out fine lines.
Beta glucan
It stimulates skin natural renewal processes, increases its firmness and elasticity, and smoothes out minor wrinkles.