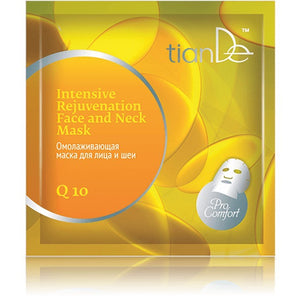 Tiande Intensive Rejuvenation Face and Neck Mask Q 10, 1 pc
tiandebeauty
Regular price £3.10 £2.50 Sale
Effect of the mask's active ingredient

Coenzyme Q10 is the most powerful antioxidant used in cosmetology delaying skin
aging. Thanks to it, the cells obtain the energy they need for constant renewal.

Purpose:
• antioxidant effect,
• reduces wrinkle depth,
• improves skin turgor and elasticity.

Result
The rejuvenation process is triggered in the skin cells, its resiliency and moisture
content are enhanced, desquamation and irritation stop, expression lines become less
noticeable.


Directions: apply the mask to the cleansed facial skin,
remove in 15-20 minutes, rinse the face with water.
Do not apply to injured, irritated or inflamed skin.