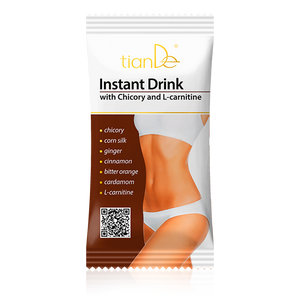 Instant Drink with chicory and L-carnitine
TianDebeauty
Regular price £2.10 £2.10 Sale
Chromium contributes to normal macronutrient metabolism. Chromium contributes to the maintenance of normal blood glucose levels.

Ingredients: Chicory (Cichorium intybus) root powder, Siberian cedar (Pinus sibirica) nut powder; Inulin, L-carnitine L-tartrate, Corn silk (Zea mays silk) extract (1:10), Bitter orange (Citrus aurantium amara) fruit extract (1:10) (with synephrine content of 10%), Ginger (Zingiber officinale) root extract (1:10), Camphor (Cinnamomum camphora) tree bark powder; Cardamom (Elettaria cardamomum) seed powder; Chromium (chromium picolinate).
Producer: LLC "Integratsiya", 112a E. Alekseyevoi Street, Barnaul, 656019, Russia.
Importer: ASTI Group LLC, 5 Zardu str., Riga, LV-1083, Latvia, +37127030599.
APPLICATION:
Pour a bag (3g) with hot water 200-220 ml. 1 glass of brewed drink 1-2 times a day.