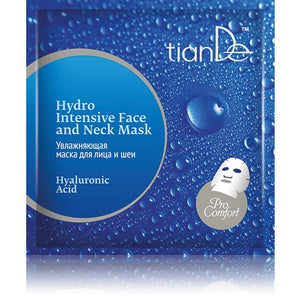 Tiande Hyaluronic Acid Hydro Intensive Face and Neck Mask 1 pc
tiandebeauty
Regular price £3.10 £3.10 Sale
Effect of the mask's active ingredient
Hyaluronic acid is well distributed over the entire skin surface and forms a light film
that actively absorbs moisture from the air. This promotes the increased content of free
water in the corneous layer and also creates the effect of additional moisture, which
helps reduce water evaporation from the skin's surface. Skin appearance improves
noticeably, as if "plumped" from the inside.
Purpose:
• moisturizes, improves skin tone,
• recovers and strengthens the protective epidermal barrier,
• removes the sensation of dryness and tightness,
• improves skin texture and turgor.
Result
You will recover the sensation of comfort and facial smoothness after the very first
use of the mask. Surface wrinkles are smoothed out, deep wrinkles become less
pronounced. When used regularly, the mask provides a stable, prolonged lifting effect.
"Pro-Comfort" products have been specially
developed for modern women who value themselves
and pursue an active lifestyle. These wonderful masks
are a real home beauty spa. At any time, you can
perform these highly-effective beauty procedures on
your own — without resorting to expensive services
at the beauty salon.