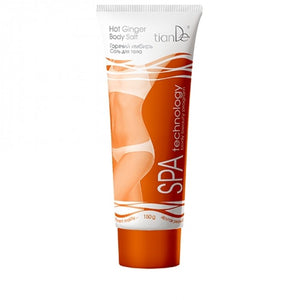 Tiande Hot Ginger Body Salt
TianDebeauty
Regular price £10.70 £5.35 Sale
Hot Ginger Body Salt will help you 'burn' your body imperfections! Ginger combined with sea salt will make your skin smooth and silky, will help decrease cellulite and visibly tighten your skin. The product has a double effect:
- ginger warms up the skin well, improving microcirculation;
- sea salt is an excellent cleanser, exfoliating the upper keratinized layer of the epidermis.

Skin elasticity and tone improve, cells are saturated with a lot of important and healthy elements. Salt crystals provide an excellent massage effect when coming in contact with the skin. When the product is applied to problematic areas, you do not just care for your skin, you also provide health-improving lymphomassage and drainage. Treat yourself regularly, and after each session your skin will be looking better and better!
APPLICATION:
Apply to problematic areas, massage, then rinse off.