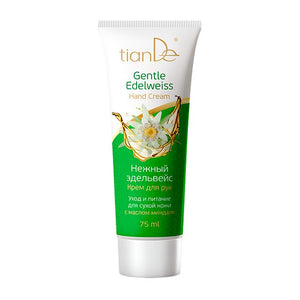 Tiande Gentle Edelweiss Hand Cream 75ml
TianDebeauty
One of the most necessary attributes of a successful woman, her calling card, is a flawless manicure and impeccable hand skin. At any meeting, whether a business meeting with partners, a romantic rendezvous or meeting with friends, well-groomed hands will speak of the successful image of their owner, regardless of her age.

In order to have self confidence in any situation, take care that at the most important moment you do not have to blush and in a panic put on gloves or hide your hands. Gentle Edelweiss hand cream is a find for dry hand skin that is prone to peeling.

The active components of the remedy operate in synergy to ensure an unsurpassed effect! Your hands will become softer and more delicate with each day. The cream protects the skin from the effect of free radicals, restores damaged cells, stimulates the formation of new cells and keeps moisture in the skin without allowing dryness and peeling. It contains edelweiss extract, a deluxe ingredient used in premium-class cosmetic production.
APPLICATION:
Massage a sufficient amount of cream into clean, dry hand skin in the morning and evening. Applying the cream after each hand washing is also recommended.