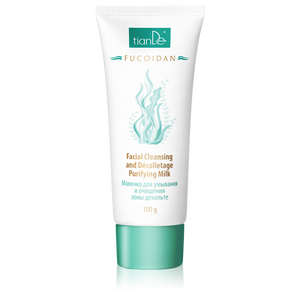 Tiande Fukoidan Facial Cleansing and Décolletage Purifying Milk
tiandebeauty
Regular price £15.20 £15.20 Sale
Regular cleansing is a must-have for efficient skin care and eternal beauty. It is the basis of the following skin care regimen.
Start your skin care with a right product! TianDe Fucoidan Facial Cleansing and Décolletage Purifying Milk gently and efficiently removes grease and dirt, leaves your skin feeling hydrated and comfortable.
Fucoidan Milk is a very delicate product that contains natural surfactants based on coconut oil fatty acids. The legendary fucose in its formula, enhanced by moisturizing ingredients, helps you start a full-circle anti-age skin care at the cleansing stage!
Gentle texture, efficient rejuvenating and moisturizing components, paraben- and mineral oil-free formula – you will enjoy this Facial Cleansing and Décolletage Purifying Milk even if you have the most delicate skin.