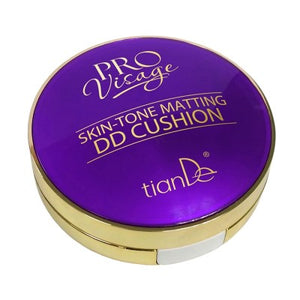 Tiande DD Skin-Tone Matting Cushion
TianDebeauty
Regular price £37.40 £37.40 Sale
Do you have oily or combination skin and struggle with the problem of choosing the right skin-tone product every day?
Unsightly shine appears in literally just a few hours, and the tone of the skin seems to disappear from the face? 
If these "symptoms" are well known to you, do not hesitate to try the blotting cushion for oily skin from TianDe.

Thanks to its absorbent components, the cushion for oily skin helps to keep the T-zone under control, does not clog the pores and nurtures your skin throughout day!

Benefits of the DD skin-tone blotting product:
- perfectly smooth and matte skin tone throughout the day, even in the T-zone;
- easy to apply and adapts perfectly to the skin colour;
- 100 % masking of imperfections and small wrinkles;
- protects the skin from the adverse effects of the surrounding environment.

The product contains Vitamin E for antioxidant protection, a moisturising complex for deep hydration, a UV filter for protection and a complex of absorbents with the amino acid lysine for protection against greasy shine.

The cushion for oily skin looks just like its "older brother" - the DD skin-tone blotting product that has already become a hit in TianDe's product range. It comes in a compact case that contains everything you need to create the perfect skin tone! Inside the stylish box, you will find a sponge saturated with a light skin-tone product, a special applicator for even application, and a compact mirror to help you do your make-up at any time.

APPLICATION:
Take the sponge and gently press on the cushion - it will dispense just the right amount of product needed to create the perfect complexion. Apply the product to the cleansed and hydrated skin of the face.