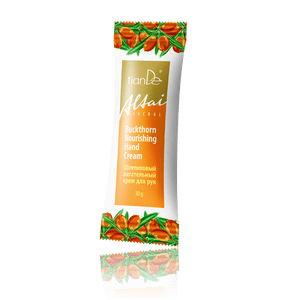 Tiande Buckthorn Nourishing Hand Cream
tiandebeauty
Regular price £1.80 £1.80 Sale
This Altai Sacral cream intensively nourishes and hydrates, helps to maintain young-looking hands, and takes care both of skin a cuticles. The cream formula contains natural oils and extracts from plants of the Altai – one of the cleanest destinations on the planet.
The cream does not contain parabens and artificial colours. One of the key ingredients contained in the cream is an extract from the Altai sea buckthorn seeds.
This plant is a champion when it comes to the active, natural versions of beta-carotene (a precursor to vitamin A) and vitamin E. These ingredients help skin to look young, tight and elastic.
The economic packaging in small flat bags allows you to obtain a high quality product at an affordable price. If used daily, the 30 grams of cream will last for about a month.