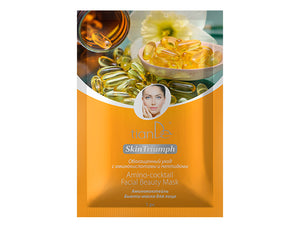 Tiande Amino-cocktail Facial Beauty Mask, 1sheet
TianDebeauty
Regular price £2.50 £2.50 Sale
Does your skin look tired and dull? Does it lack youthfulness and radiance? It's high time for the beauty cocktail! Amino-cocktail Facial Beauty Mask will invigorate your tired skin. 15 minutes of relaxation with the thinnest mask on your face – and a rested, refreshed girl will look at you reflected in the mirror.

Thanks to the active components, the mask deeply moisturizes the skin, the face looks younger and noticeably refreshed after just several minutes. At the same time, the mask works not only to achieve the result, which is important 'here and now', but also improves the skin's resistance to visible wrinkles in future. Discard tiredness, it's time to charge your skin with the energy of youth!
APPLICATION:
Apply the fabric side of the mask to the cleaned face from the top down, gradually separating the pearly film. Remove the mask in 15-20 minutes, rinse your face with water.