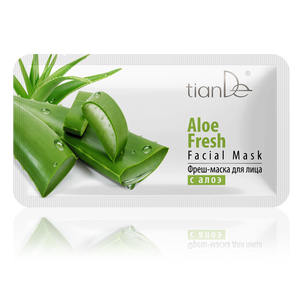 Tiande Aloe Fresh Facial Mask
TianDebeauty
This mask helps you to make full use of all the properties of aloe. No other plant has such a large number of beneficial properties. No plant can match aloe vera in terms of its number of biologically active components.

The aloe juice contained in the mask has the ability to mitigate inflammatory processes in the skin. In addition, it helps in the fight against the first wrinkles and pigment spots. The aloe juice intensively hydrates and soothes the skin.

A fresh mask helps to restore the natural balance of water in the skin, improves its structure, smooths out fine wrinkles, and gives the skin elasticity.

The mask provides excellent care even for very dry, tired and irritated skin and restores its elasticity and healthy look.
APPLICATION:
Apply the mask onto clean skin and let it work for 15-20 minutes. Then remove the mask and wash your face with water. Use 1-2 times a week. Use the product immediately after opening the package. 1pc