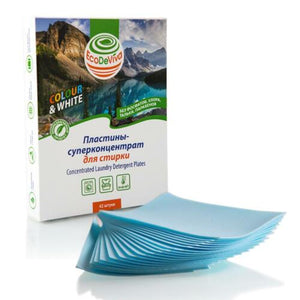 Tiande Concentrated Laundry Detergent Plates 42pcs
TianDebeauty
Regular price £17.00 £12.80 Sale
Product of increased environmental friendliness will ensure deep but gentle cleaning of all types of fabrics, including delicate ones. It is characterized by low foaming, fast solubility even in cold water, and neutral softness and it qualitatively rinses out from the fabric. It leaves no dust residue when used, unlike powder detergent, that's why does not cause respiratory tract irritation.
Ingredients: ≥30 % Anionic surfactants, 5 - <15 % Non-ionic surfactants, <5 % Perfumes.
Storage: store in a dry place.
Producer: Guangzhou Xinting Biological Technology Co., Ltd. Guangzhou, Baiyun District, Renhe Town, Fenghe Village, Fenghe Industrial Zone, No.8. China.
Importer: ASTI Group Ltd, 5 Zardu Street, Riga, LV-1083, Latvia, +37127030599.
APPLICATION:
Washing method: Hand wash (3–5 l), Number of plates: 1 pc, Laundry weight: ~1 kg
Washing method: Machine wash, Number of plates: 2 pc, Laundry weight: ~2-3 kg
Washing method: Machine wash, Number of plates: 3 (4*) pcs, Laundry weight: ~4-5 kg
* For heavy dirt, the number of plates can be increased.
For hand washing: put the plate in water to dissolve. For machine washing: put the laundry in the drum of the washing machine, then place plates according to the amount of clothing and the level of dirt. The most contaminated areas can be pretreated.