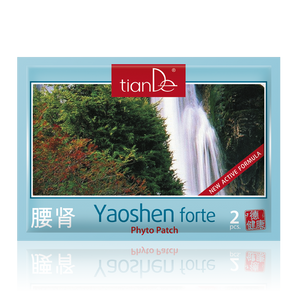 Tiande Yaoshen Forte Cosmetic Body Phyto Patch, 2 pcs
TianDebeauty
Regular price £6.90 £5.90 Sale
The package of the Yaoshen Forte patches presents a magnificent waterfall with multiple streams falling down in a valley. This image perfectly reflects the way the Phyto Patch acts.

Active ingredients of the Yaoshen Forte patch have positive impact on kidneys and urogenital system. Men can use this formula to restore self-confidence.

Yaoshen Patch formula has become richer and stronger – 19 active ingredients including extracts and oils, that have targeted action. One of the main benefits of a transdermal therapy is that all elements get into the system bypassing gastro-intestinal tract.

APPLICATION:
Before using the patch wash and clean off the grease from the skin you are going to use it on. Put the Phyto Patch to the points in close proximity to the kidney. In acupuncture this is the Shenshu point. You can easily find it on your lower back, 3-5 cm to the left and to the right from the spine. Better use the Yaoshen Forte patch before going to bed, remove the patch in 8 hours. Course of use – 10 days.

Men may consider putting an extra patch to the lower dang-tien, four fingers below the navel. According to oriental practices it is the main energy reservoir in a human body.