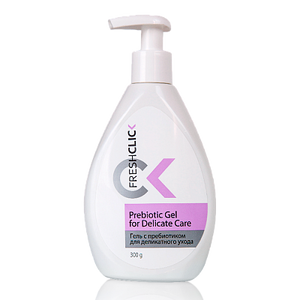 Tiande Prebiotic Gel for Delicate Care 300g
TianDebeauty
Regular price £14.00 £11.90 Sale
Caring for women's health and building self-confidence starts at an early age... and with personal hygiene. Female parts are the most sensitive part of a woman's body and therefore require equally sensitive care.

Prebiotic gel for delicate care from the FreshClick line is a new generation personal hygiene product with natural prebiotics and postbiotics.

Intimate parts have their own microflora, in which lactobacteria that produce lactic acid, which maintains a natural pH level and a natural protective barrier, play an important role (healthy microflora is absolutely unsuitable for colonization by pathogenic bacteria).

Natural prebiotics and postbiotics contained in the gel help maintain the natural microflora of the intimate parts and reduce irritation and dryness. The composition of the product, which consists of 85 % natural ingredients, is enriched with allantoin, which is known for its soothing effects.

Prebiotic gel for delicate care is created especially for you so that you always feel comfortable and radiate self-confidence throughout the day.
APPLICATION:
Apply the required amount of gel to your intimate zone, lather, and rinse with water.