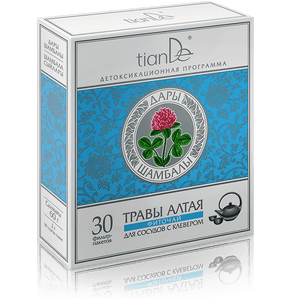 Tiande Vascular Phyto Tea with Clover, 30 x 2g
tiandebeauty
Regular price £9.80 £9.80 Sale
The herbs contained in the composition of the phytotea have a positive influence on the activity of your cardiovascular system. 
The phyto tea contains a well-balanced and harmoniously selected complex of herbs, promoting the health of the cardio-vascular system. Composed of: Haw Berries, Melissa Herb, Clover Herb and Blossom, Marjoram Herb, Foalfoot Leaves, Orthosiphon Leaves, Birch Leaves, Rosemary Leaves, Calendula Blossom.
Recommended for:
Administered for the strengthening of the walls of the capillary vessels and for the improvement of the venous and arterial blood flow as well as for the reducing of the cholesterol level. The phyto tea is recommended for the patients with cardiovascular diseases.