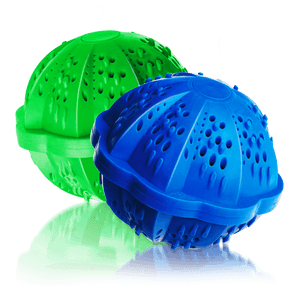 Tiande Tourmaline Washing Spheres
tiandebeauty
Regular price £45.10 Sale
Product for the environmentally-friendly and economical washing of colored garments and linens. As they contain no aggressive chemical substances, the ecospheres with tourmaline are completely safe for the environment. They replace not only laundry detergents and liquid products, but fabric softeners as well. The ecospheres are designed for 400 washes.

By purchasing this product, you sponsor the planting of one coniferous tree within the scope of the TianDe Forest charitable program.
APPLICATION:
Put the the tourmaline ecospheres into the drum of the washing machine with your laundry. Select a normal washing mode according to label instructions. Obligatory conditions for the use of ecospheres include full loading of the washing machine and minimum spin speed (in case of underloading, the ecospheres may burst). It is recommended to take the ecospheres out of the drum when the drying mode is on. The best washing result is achieved when the laundry is pre-soaked and washing programs with enhanced water volumes are used. To wash heavily-soiled laundry, you may add a laundry detergent - up to 1/5 of the manufacturer's recommended dose. Caution! It is not recommended to use ecospheres to wash items made of silk, wool or delicate fabrics, as well as at temperatures above 60 ºC.

Ecospheres with tourmaline are only intended for drum-type domestic automatic washing machines. Regularly (once a month) place the ecospheres in direct sunlight for drying. The ecospheres are designed for 400 washes.

The product is not intended for whitening or removing stains of various origin. When washing white articles, the ecospheres do not guarantee a bleaching effect.